Say Hello to Carly Findlay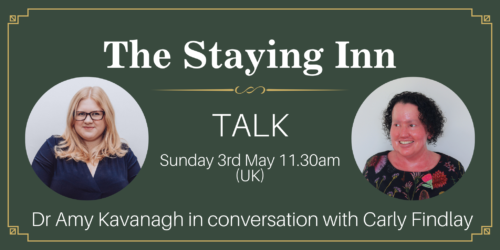 11/05/2020
We enjoyed the opportunity to Say Hello to Carly Findlay in Conversation with Landlady Dr Amy Kavanagh on Sunday 3rd May 11.30am (UK) / 8.30pm (Aus)
Our Staying Inn elves have been beavering away and now, for those that missed this session, the video is available on our YouTube channel – https://www.youtube.com/watch?v=2Iu0WSWIKfw&feature=youtu.be
Unfortunately, its not quite the full experience as we had a couple of technical blips along the way so on this occasion we can only bring you an Audio recording of the session with Closed Captions.
---
Carly Findlay is a blogger, writer, speaker and appearance activist. She challenges people's thinking about what it's like to have a visibly different appearance. Carly will be joining Amy at The Staying Inn for a conversation about her book Say Hello.
The book is a memoir – with anecdotes from Carly's life to date, as well as thoughts and observations on ableism, media representation and beauty privilege. This incredible memoir encourages hope and disability pride.
Join us to hear all about Carly's book, activism and an exploration of living with disability and visible difference.
When: Sunday 3 May, 2020 11:30 AM
Signup to our newsletter for access to this webinar and other events:
Join us at 11.30am (UK time), this session has live captions and British Sign Language interpreters.
This session will be recorded, but your camera will not be visible as it is a webinar.
Say Hello is available as an audiobook and e-book, you can find out more details here: http://carlyfindlay.com.au/sayhello/ 
Sign up now to become a member of The Staying Inn