Make up top tips (Catch up)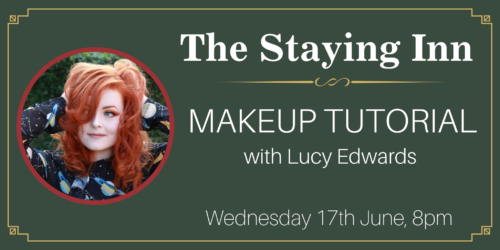 03/07/2020
Blind Youtuber and Glow Up Queen Lucy Edwards chatted to Chloe Tear all about her favourite products, make up top tips and did a look for us live at The Staying Inn!
Lucy Edwards is a 24 year old makeup obsessed BBC broadcaster and YouTuber who is usually accompanied by a cute guide dog named Olga. Lucy was the first ever blind presenter on Radio 1 and the first ever blind ambassador for the makeup giant COVERGIRL. Her  video 'Blind Girl Does Her Own Makeup' went viral in 2015 and since then she's been known as a makeup aficionado.
Find out more about Lucy & her work – http://YouTube.com/lucyedwards  
Recorded at The Staying Inn on Wednesday 17 June 2020.
Watch the video – https://youtu.be/ZezS8CJrm4Y
Please note that we are currently waiting for a copy of the full Closed Captions file for this video so at the moment it is presented with the automatic captions from YouTube which may not be completely accurate.