Donate via PayPal Pool to keep the Inn open in to September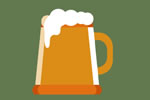 29/07/2020
If you've enjoyed a night at The Staying Inn (or our catch-up content) please donate so that we can keep bringing this brilliant online boozer to your front room!
If you enjoy our content and are joining from outside the UK, please consider donating to our PayPal Pool.
Our GoFundMe is still running too if you are within the UK and can donate via that route.
Each event that we put on costs around £300 and we currently receive no core funding.
The Staying Inn is playing a vital role in connecting many disabled people who will be self-isolating for a long time, and showing non-disabled people the power of inclusive online spaces! Your donation will help us keep our events accessible & inclusive by paying for live captions & British Sign Language interpreters.
We can create stronger connections even when we are socially distant.
Our fundraising is vital to raise money to pay the people who share their talents, knowledge, skills and time with The Staying Inn. During this difficult time many disabled people, creatives and freelancers have limited income, so this fund will pay what it can to those who share their skills with us.